It's no secret. Team Desmos loves teachers and loves it when teachers use our tools to show their creativity. Inspired by your enthusiasm and your creative work, we make many of the activities on teacher.desmos.com publicly available to copy and edit. Want to have your students create virtual fields for virtual cows? Take Build a Bigger Field and make it your own! Want to add extension questions to Lego Prices? Go ahead and make a copy!
Have you tried it? Did you get the following message?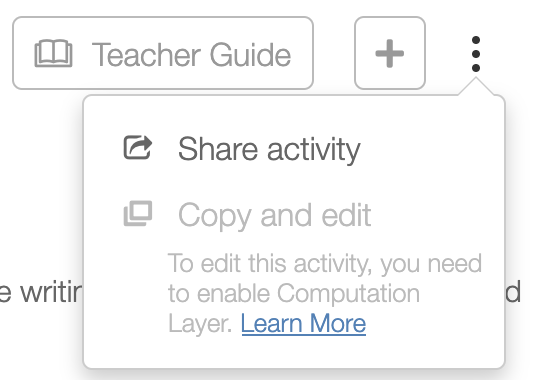 Don't panic. You can turn on access with just a few clicks.
Meet Computation Layer
Many lessons at teacher.desmos.com use a scripting language called Computation Layer (CL). In order to simplify the editing experience for beginning users, CL is turned off on new accounts. The good news is you can turn it on by heading over to teacher.desmos.com/labs and checking the box for CL. While you're there, think about checking boxes for the other tools as well!

Now try copying an activity again; maybe a tried-and-true classic such as Marcellus the Giant.

Once you do that, you'll be on your way to creating your own amazing lessons! It would be helpful to mention that although CL unlocks many of our activities, there are some activities with advanced, non-public features. Activities that contain class galleries or advanced features only editable through our internal processes are uneditable with a public account.
Where Should You Start?
Now that you have CL turned on, it's time to make some cool stuff happen. If you're the type who can read through an instruction manual for something and learn how to operate it, you should head on over to the documentation page. There, you'll get an overview of the basic structure of CL, how its parts work, and the various commands you can give in each component.
If you're like many of us and could use some context for what you're trying to create, in addition to reading the documentation, try finding an activity with an interaction you'd like to emulate. Copy and edit that activity, then look at the code inside. Try taking it apart to see what lines of code drive the parts you want to emulate. Don't worry about breaking things! You're editing your own copy, not the original, so you can always make a fresh copy and start over.
Try doing this with a few activities, and when you're ready, start making your own original activities by navigating to Custom in the sidebar at teacher.desmos.com and selecting "Create New Activity."
Where Can You Learn on Your Own?
All of our webinars are recorded so that you can jump in and learn step by step as though you were there (with the ability to pause, rewind, or even speed up the video).
You'll discover countless ways that CL can be used to enhance your activities. We hope this opens up a world of new possibilites in the Activity Builder.
Want to step beyond the basics and use CL in more innovative ways? Join our monthly challenge. Every month, we highlight a particular game-changing use of CL. We then invite everyone to share their own version using the hashtag #MatchMyCL.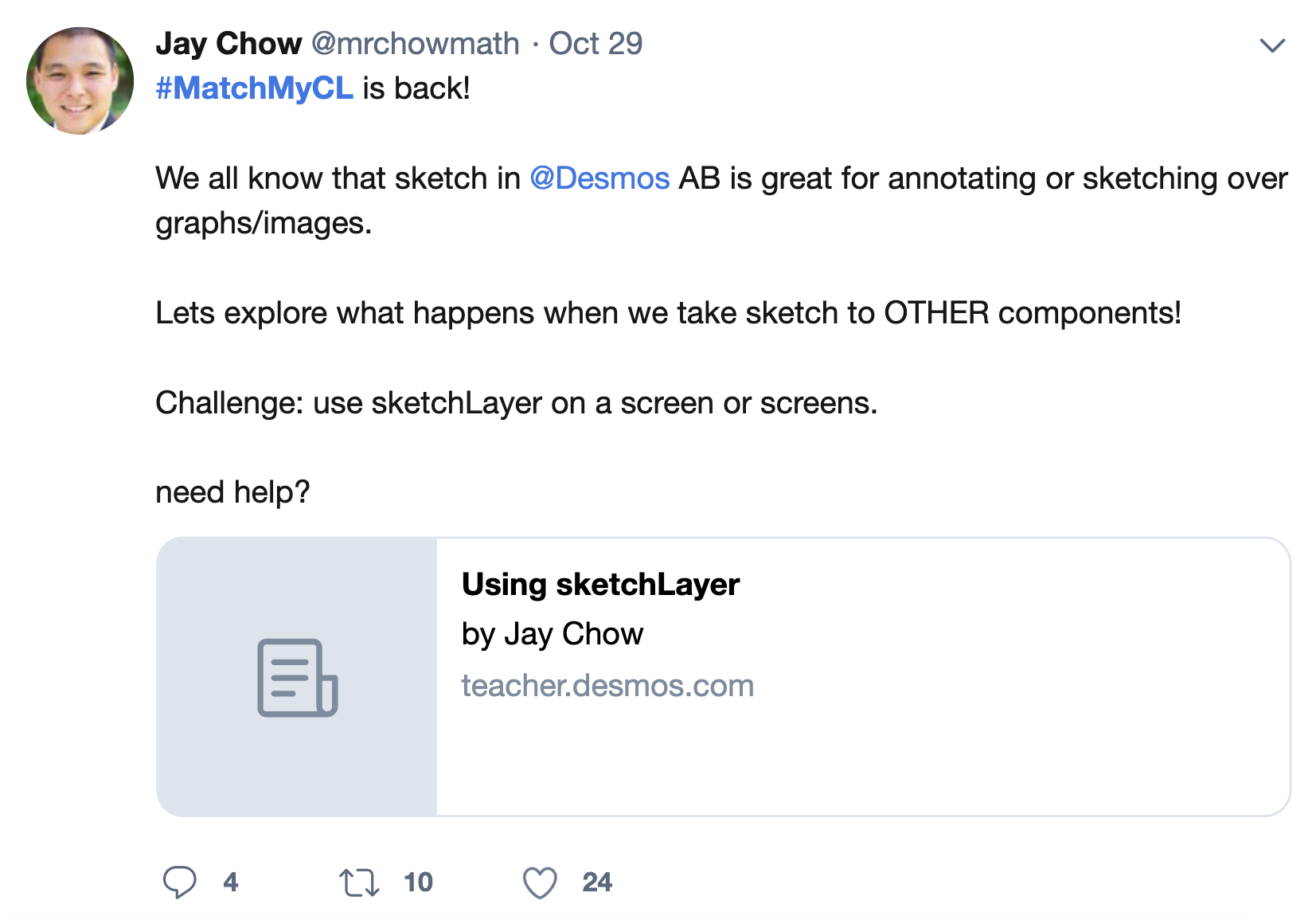 Where Can You Go for Help?
Fans of CL only love one thing more than building amazing activities: helping others learn and get unstuck with their code. Whether it's taking a set of values from a table and plotting them as coordinate points on a graph or aggregating an entire class's estimates and plotting that aggregate on a number line, the CL community is here to make all of your Activity Builder dreams come true. Our Desmos Computation Layer support forum might just be the most responsive and caring forum that exists in the world (well, for CL help at least). You can even ask us how we built activities that aren't publicly editable, and we'll do our best to get the same interaction going for you. If a support forum isn't your style or you just want to get straight to the source, then email support@desmos.com with your situation.
Many people know CL very well and are available to help. But even these people sometimes need help of their own, and when they do, there's only one person they can count on. His name is not Gandalf, Dumbledore, or Yoda. His name is Jay Chow, and you can find him on Twitter (@mrchowmath) or on the CL support forum. He will usually respond to your question before you have even asked it. He's that good!
Our Facebook group, Desmos Educators, is also a great place for seeking help from the community. No matter the medium, we're here to help you make your activity the best it can be.
Want More?
Before concluding, we'd like to reiterate one point: we love teachers and love seeing teachers show off their creativity with our software. As a result, we want to continue to support you in your CL learning. Here are a few opportunities we have coming up to learn CL from our team:
Upcoming CL webinars hosted by Team Desmos:
P.S. We're starting a newsletter! The first edition of the Computation Layer Monthly comes out in January of 2020. Sign up to receive the CL newsletter here.