This week we're excited to become part of the Google family with additional funding from their startup venture fund, Google Ventures. Thanks to this additional support we plan to continue making math fun, accessible, and collaborative without the need for expensive, proprietary hardware. Because, who wants to spend $100+ on a graphing calculator, right?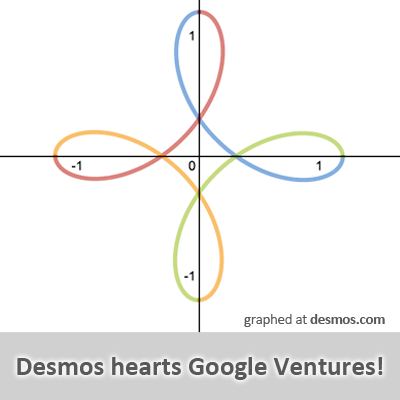 "Today technology is rapidly redefining traditional education," said Rich Miner, partner at Google Ventures. "Math is a subject area where we lose many of our students and our competitive edge. If math can come to life, as Desmos is doing, we can build a generation of students that is engaged and deeply interested in the areas of math and science. We are excited to be working with Desmos as they scale their operations to have an impact on students around the world."
Since unleashing the calculator in early 2011, we've felt the love from math-enthusiasts near and far. Our users span over 150 countries around the world and thanks to them, we've seen dedicated users push our software beyond what we thought was possible.
With the school year kicking back into gear, we've seen a surge in teachers and students using Desmos for creative, project-based assignments. In a recent final project for an Algebra II high school class in Florida, students were challenged to draw Mickey Mouse using circles and ellipses. Over 2,000 different Mickey Mouse graphs were created in a week. Since then, users have built intricate graphs of cartoon characters, super heroes, animals, and anything else you can imagine.
Luke Walsh, a mathematics instructor at Catawba Valley Community College in North Carolina, uses Desmos for project-based learning and discovery for his classes. Walsh commented, "The iPod revolutionized the way people listen to music and Desmos is revolutionizing the way people visualize mathematics. As soon as students begin typing, mathematics is displayed to them in color, and they quickly become engaged by amazing features, such as dynamic sliders and points of interest. Desmos soars past the definition of a graphing calculator." Tweet Luke at @LukeSelfwalker.
Stay tuned for more exciting announcements in the coming months.
Happy graphing everyone!