The Friday Fave would like to tell you a secret.

Lean in close and listen.
Are you listening? Are you ready?
YOU CAN MAKE YOUR OWN MARBLESLIDES!
Many know this; many do not. Here's how…
When you're signed in at teacher.desmos.com, look for your name in the upper right hand corner. Click on the triangle to drop down a menu, and find "Desmos Labs".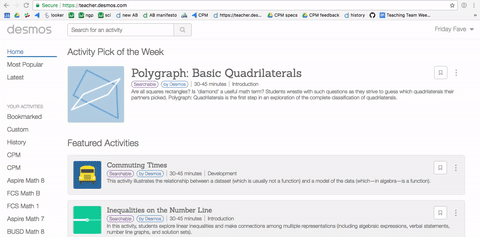 Check the box next to Marbleslides (and then the one next to Card Sort while you're here). Click "Save". You're good to go! The next time you build an activity in Activity Builder, you'll see options for adding those components.
Labs is our place for parking features that we've been using for a while, but that we aren't quite ready for every Desmos first-time builder to run into. We want to be careful and make sure that building in Activity Builder is a good time for everyone, so we wait until the rough edges are sanded down.
If you're the sort of person who enjoys playing with un-sanded toys, keep an eye on Labs. We have maybe a few new things going in there in the coming months.
Finally, here are some activities that use Marbleslides and Card Sort, including a super-creative game of Mini Golf that we definitely did NOT expect when we built Marbleslides.
Enjoy the beauty of Desmos Labs, this week's Friday Fave!