This week we asked the Desmos fellows to discuss ways to give participants a voice in workshops. The responses included a variety of strategies that the fellows had experienced success with, either as a workshop participant or as a presenter. The two main areas of focus had to do with how a workshop is differentiated to meet the needs of participants, and the strategies that the presenter can use to make participants active contributors to the session.

Differentiation
Several of the fellows mentioned that the most valuable professional learning experiences for them allowed them some choice in what they would explore. For example, Glenn Waddell has used Desmos Bingo in workshops to differentiate the learning experience for beginning and more advanced users of the Desmos calculator.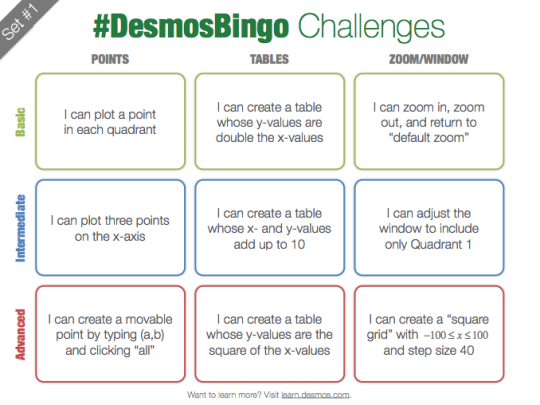 Patty Stephens attended a Google workshop in which the presenter gave an overview of three Google add-ons, then participants chose one to explore in-depth. This sort of exploration also gives teachers the time and space to consider how the learning applies to their own classroom.
Allison Krasnow and Jenn Vadnais appreciate differentiation and time to explore in a workshop, though they encouraged our group to be intentional with closure. Allison has struggled with bringing participants back together after exploration time to discuss the big ideas and learning that are relevant to the entire group. One idea to help with closure is to have a whole group share-out on take-aways and next steps, though Jenn shared that she has had mixed success with this strategy. "The successes occurred when there was a high level of trust in the room. The participants knew and respected each other. When presenting at a conference, participants were more comfortable talking in small groups than sharing whole group."
Strategies
Jenn's point reminds us that the strategies that presenters use can have a big impact on whether or not participants feel heard and whether or not they feel like their ideas are valued. Trust and feeling safe are also key, and our group had many ideas for how to build a safe space, even in a short amount of time.
What ideas have you tried or experienced in workshops that help give participants a voice? We'd love to hear from you! Let us know on Twitter @desmos.