Update as of February 15, 2023: The 2022 Art Contest Gallery is live! You can find it at www.desmos.com/art.
Huge congratulations to everyone who participated. We're so inspired by the effort, artistry, and creativity we saw across all of the age brackets and from around the world. It was nearly impossible to pick just 80.
We're looking forward to seeing you again next year!

Last year we received more than 10,000 submissions from more than 100 countries for our 2nd annual Global Math Art Contest. Each year, we've been amazed by the creativity and artistry of people from around the world. The Art Contest has inspired new features, pushed our technical limits, and motivated us to improve our calculator to be worthy of the incredible people who use it.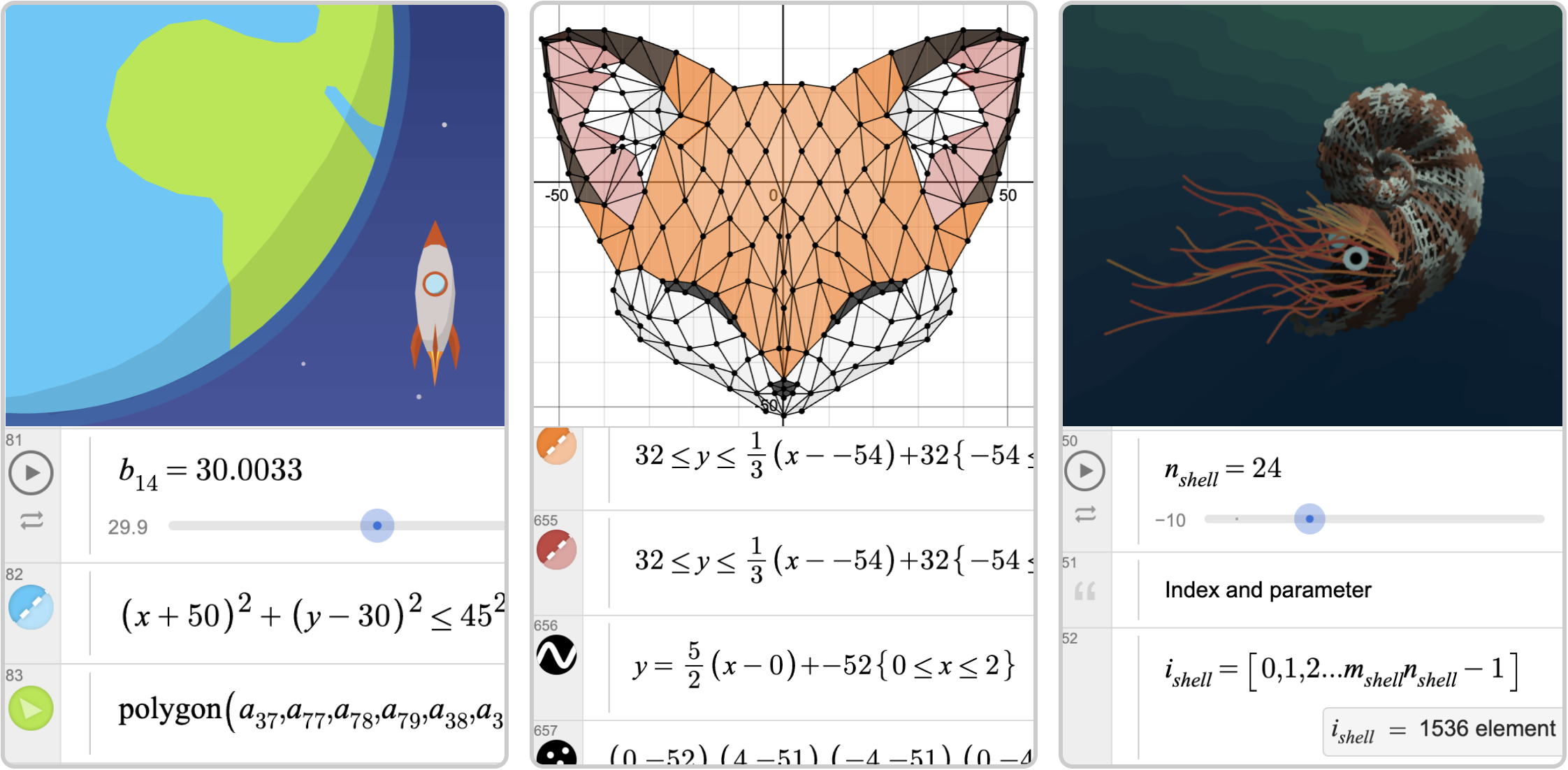 We're excited to announce our 3rd annual Global Math Art Contest, this year with some big changes.
First and foremost, we're still going to select 20 graphs in each of 4 age brackets to feature on our website. But this year every single person featured will receive a prize. We found it nearly impossible to pick a "winner" from amongst the featured graphs. So we decided we want this to feel more like an Art Gallery than a prize contest. There's just too much variety and ingenuity.
Secondly, we're clarifying our evaluation criteria to prioritize some new characteristics, including performance. Part of our mission at Desmos Studio is to make sure that math is accessible to everyone, and so we prioritize performance—even on low-powered devices—in everything we build. We want to feature graphs that do the same!
Finally, we'll have a few surprises this year, which we'll share at the end.
We can't wait to see what you'll build.
Who Can Enter?
Any individual from any country, aged 13+ may submit a Desmos graph to the competition via the Desmos Graphing Calculator. We'll select graphs to feature from each of four categories based on participants' age as of December 31, 2022:
13–14 years old
15–16 years old
17–18 years old
19+ years old
Some international math artists may be ineligible due to various international age restrictions in online privacy laws. Complete the starter questions in the Desmos Graphing Calculator to determine your eligibility to participate.
What Are We Looking For?
Your original art, created in the Desmos Graphing Calculator. Submissions that contain 1) copyrighted images, or 2) graphs or equations you did not create yourself will not be considered. While you cannot submit graphs of copyrighted images, you may submit graphs of works that are in the public domain.
We'll feature submissions that have some combination of the following:
Creativity and originality, including:

A personal story
Beautiful visual design
Varied mathematics

Delight. There are lots of ways to show this, such as:
Performance

Simplicity, including using fewer expressions to achieve the same goal
Performance, including on low-powered devices
How Will We Select Graphs to Feature?
We'll select 20 featured graphs in each of the four age categories. Each of the 80 featured artists (20 in each age category) will receive:
$250

USD

Exclusive Desmos merch (worth $100)
Artwork publicly displayed by Desmos Studio on our company website and social media channels.
How to Submit Your Entry
Contestants can submit their entries through the Desmos Graphing Calculator at desmos.com/calculator. Just sign in and click on the trophy icon in the top right corner.
All submissions must be made on or before January 15th, 2023 at 11:59 p.m. Pacific Time.
The Fine Print
All contestants must be ages 13+ as of midnight on December 31, 2022 to participate. Age categories will be determined as of December 31

st

, 2022.
Some international contestants may be ineligible due to various international age restrictions in online privacy laws. Complete the starter questions in the Desmos Graphing Calculator to determine your eligibility to participate.
We will only consider a contestant's last submission, so if you need to make any edits after you submit your graph, just submit it again.
All graphs must be the original work of the contestant and created using the Desmos Graphing Calculator. We cannot accept submissions that include copyrighted images. Specifically, submitted graphs may not include the use of content that is not the intellectual property of the person who made the graph. This includes graphs of your favorite characters, logos, images, etc. that are not currently in the public domain.
Before distributing prizes, we reserve the right to verify a contestant's eligibility and application information. It is the contestant's responsibility to ensure that they are abiding by local data privacy laws.
Resources
Brand new to graphing with Desmos? Not so new, but want to learn more? Check out any of these links to get started.
Questions? Contact us at contest@desmos.com.