This past weekend Desmos invited 50 math educators from North America to join us for our 3rd annual Desmos Fellowship Weekend. We were grateful for the chance to hang out during the weekend with this group of incredibly talented and inspiring educators, and we are looking forward to the journey ahead.

Some highlights from the weekend included:
Sessions from the Desmos Teaching Team and Desmos Fellows helping educators learn how Desmos supports teachers in using Desmos tools.

A keynote from Eli Luberoff.

Desmos Trivia hour and other after hours outings.

Above all else the weekend focused on community and helping teachers learn from each other. From sharing activities to discussing next year's textbook adoption and how to use Desmos for assessment, Desmos Fellows gathered ideas to bring back to their schools, and built relationships that will sustain them throughout their careers.
See what the Desmos Fellows had to say about our Cohort 3 Weekend:
I am humbled to be around so many thoughtful, like-minded teachers at #desmosfellows weekend. I have learned so much from everyone here in just 1 day. - Steve Phelps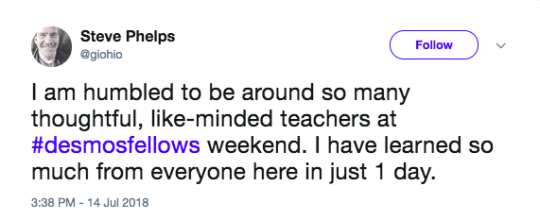 This is where the #DesmosFellows magic is happening. Every presentation is not only filled with aha moments, but is also a lesson in HOW to present. #LifeChanging Thank you @Desmos from the bottom of my heart. - Audrey McLaren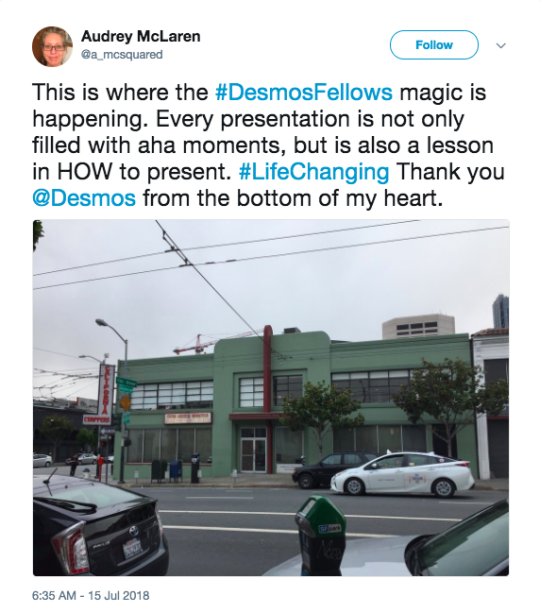 #desmosfellows weekend is over! How to encapsulate the experience? Empowering, overwhelming, challenging, gratifying, inspiring. There is so much I want to do now. #iteachmath #mtbos Thanks to @eluberoff @stcarranza @ddmeyer @mjfenton @Trianglemancsd and so many more! - Liz Caffrey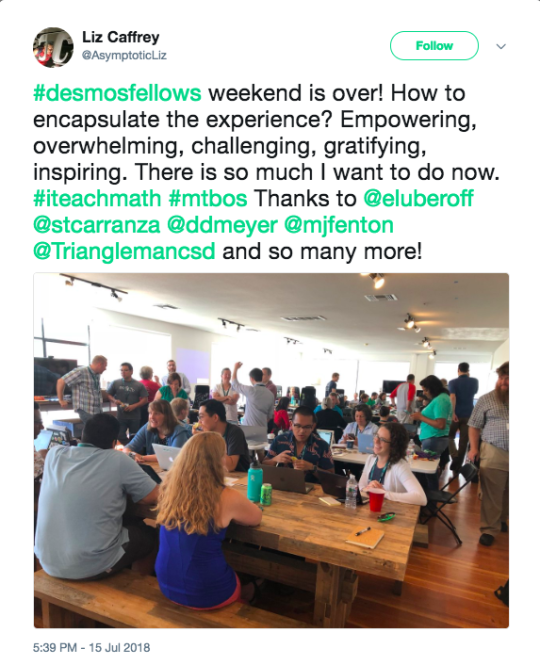 #desmosfellows saying goodbye! Thankful for this math-loving community! Thank you to the Desmos Faculty for providing a fertile soil that allowed us all to grow in security and with authenticity. Blessings to all. - Lauren Baucom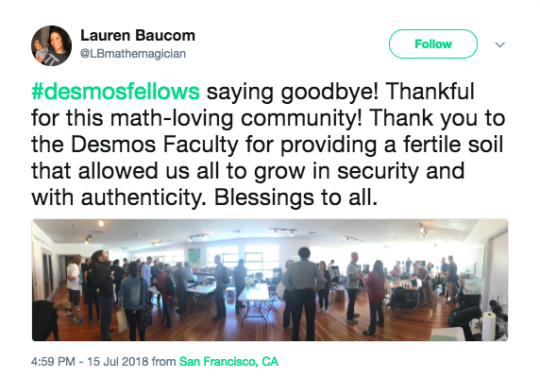 Check out reflections from the Cohort 3 Desmos Fellows below, and head to learn.desmos.com/fellowship if you're interested in participating next year!